Working to Enhance Corporate Value
The NH Foods Group strives to enhance compliance and corporate governance to increase overall management transparency and efficiency and boost corporate value. We seek to remain accountable to customers, shareholders, business partners, employees and other stakeholders, and make efforts to be able to earn further trusts thereof.
Policy on Corporate Governance
We have enacted "NH Foods Group Fundamental Policy on Corporate Governance" to present our basic views on corporate governance.
NH Foods Group Fundamental Policy on Corporate Governance
In order to exercise social responsibility of the Group and realize a vision of "The World Leader in Delivering the Joy of Eating", we continuously strive to enhance our corporate governance system which we consider most appropriate and to function it.
Basic Structure
Management Framework
We limited the Board of Directors to less than 12 members to ensure prompt and proper decision making and minimize the scope of liability of that body, which is responsible for monitoring management. Thus, headquarters departments and respective optional committees, which support the Board of Directors, have been enhanced.
A director's term is one year for the purpose of facilitating annual accountability. The Board of Directors convened 18 times during the fiscal year ended March 31,2022.
Views on Composition and Necessary Skills of Board of Directors
Roles of Outside Directors
We appoint more than one outside director to ensure transparency. Outside directors attend regular and special meetings of the Board of Directors, providing objective opinions and advice.
Auditting
We established a monitoring framework comprising Audit & Supervisory Board Member and the Audit & Supervisory Board. In principle, the number of Audit & Supervisory Board Member is five, of whom at least three are external, to ensure proper monitoring.
Basic Policy on Director and Auditor Compensation
The purpose of the Officers compensation system at the Company is to selectively train and promote excellent human resources as executives, to further clarity the linkage between Officers compensation and Company's business performance/shareholder value, and to provide an incentive for enhancing the corporate value over the medium to long term aiming to realize the corporate philosophy for each Executive Director and Executive Officer.
The system development, compensation levels, system operation, etc. are to be deliberated by the Compensation Committee, where Outside Director acts as Chairperson, with the final decision to be made by the Board of Directors.
Internal Control Functions
Recognizing the importance of cumulative efforts, we strengthen corporate governance through our management framework and through internal controls at our sites and in Group companies.
Compliance
Recognizing compliance as the foundation of corporate management, the NH Foods Group continues to take steps to ensure a thorough understanding of compliance.
To strengthen compliance Groupwide, we have defined clear guidelines for our management policy in, among others, the "NH Foods Group Global Action Standards". In line with these guidelines, we engage in publicity campaigns such as providing compliance training sessions and stage events aiming at promoting compliance awareness, and the effectiveness of such activities is carefully monitored. Central to this effort is the Plan-Do-Check-Act (PDCA) cycle, which is repeated continuously with the aim of firmly establishing the concept of compliance as an essential component of management.
The Compliance Committee, established by NH Foods Ltd. is charged with evaluating the compliance policies and implementation measures of Group companies and offering opinions to the Board of Directors,among others. Compliance promotion committees have been established within individual Group companies and divisions, which are responsible for devising compliance related strategies and promoting compliance awareness.
We have also established multiple compliance consultation desks within the Group and outside firms.
These desks enable any and all employees to consult or report violations on compliance-related issues freely without concern for restrictions of the organization, departments or positions, etc. In addition to contributing to the prompt resolution of problems, these desks provide valuable information that is analyzed and used in the formulation of subsequent proposals for activities to reinforce compliance awareness.
Risk Management
We established the Compliance Department to comprehensively manage the risks that face the entire Group. The Compliance Department cooperates with other relevant departments and promote, in line with the risk management guidelines, to put systems in place for conveying information promptly and accurately and for establishing a quick response in the event that any of the anticipated risks should materialize. The Risk Management Committee is responsible for discussing and deciding on issues and countermeasures pertaining to the promotion of risk management throughout the Group.
Audit Department Functions
The Audit Department, which answers directly to the President, has formulated a mechanism for conducting effective audits and promotes the operation thereof throughout the Group, in cooperation with the departments in charge of monitoring activities and the auditing departments of affiliated companies.Quality-related audits are conducted by the Quality Assurance Department, while environmental audits are conducted by the Sustainability Department.
Corporate Governance System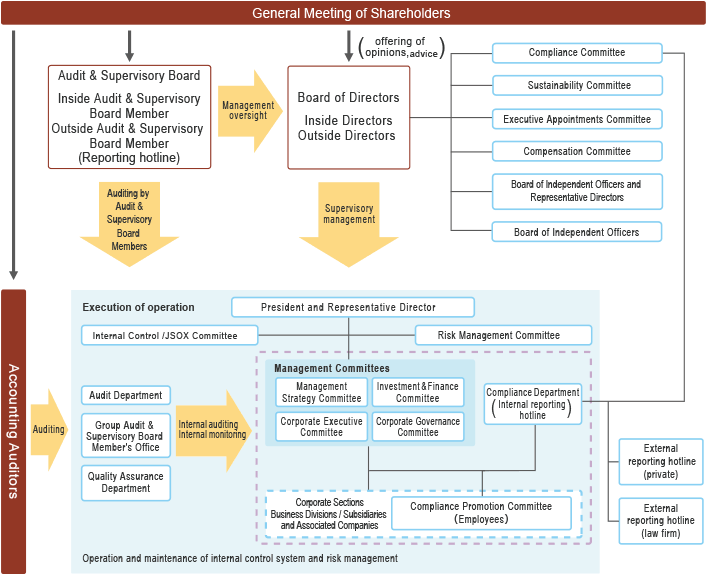 Corporate Governance Report
NH Foods Group Tax Policy
NH Foods conducts various business activities in order to impart "Joy of Eating" to customers and contribute to people's happy and healthy life. While conducting these activities, we will fulfill our social responsibilities as good corporate citizens, by complying with laws of each country, and understanding and respecting histories, cultures, and customs, etc. of each region.
Furthermore, we bear legal, social and ethical responsibility to all the stakeholders including customers, shareholders and investors, and we will firmly fulfill these responsibilities regarding taxation as well, by appropriate tax returns and payments.
In order to attain the objectives hereabove, we hereby adopt a NH Foods Group Tax Policy.
1. Compliance with Laws
NH Foods Group will accurately understand applicable tax regulations in each countries, and make appropriate tax returns and payments in accordance with the regulations.
We will not use tax havens for the purpose of tax avoidance by way of business, etc. without legitimate business purpose or substance.
2. Tax Governance
Tax treatments of respective companies within the NH Foods Group will be done by the respective companies themselves. The Accounting & Finance Department of NH Foods, Inc., which has specialized knowledge, will strive to ensure that respective companies make appropriate tax returns, by reviewing relevant details of tax treatments as appropriate, determining the appropriateness and requesting to correct them as necessary.
Further, in order to improve our knowledge on tax treatments and to raise more awareness of tax compliance, we will carry out group trainings and information sharing as necessary for management personnel and those who work for preparing financial statements of respective companies within the NH Foods Group.
In preparing tax returns and tax payments, respective companies within the NH Foods Group will confirm the details of the tax returns using a checklist regarding tax treatments. Then, the Presidents of respective companies within the NH Foods Group and the respective directors/officers of NH Foods, Inc. who are in charge will make a final confirmation and report to the Accounting & Finance Department of NH Foods, Inc.
In addition, the Accounting & Finance Department of NH Foods, Inc. will periodically implement the on-site monitoring and confirm the status of tax treatments of respective companies within the NH Foods Group.
The details of these efforts will be reported to and shared with the director(s)/officer(s) in charge of the Accounting & Finance Department of NH Foods, Inc.
3. Minimization of Tax Risks
NH Foods Group will accurately understand tax regulations in each region and aim to minimize tax risks. If a transaction for which tax interpretation is unclear occurs, we will attempt to mitigate the uncertainty by carefully examining the reasonableness of the relevant tax treatments, and obtaining expert advice from professionals as necessary.
4. Transfer Pricing
For international transactions within the NH Foods Group, we will make an appropriate profit allocation considering arm's length prices in compliance with the OECD Transfer Pricing Guidelines and tax regulations of respective countries.
Furthermore, we will fulfill our obligations to organize transfer pricing documentation in accordance with regulations on transfer pricing taxation in respective countries.
5. Relationships with Taxing Authorities
NH Foods Group shall maintain appropriate and cooperative relationships with tax authorities of each region in which we conduct business. And we will also inquire with relevant tax authorities in relevant regions for any unclear treatments as necessary and deal with them properly.
We will also respond to inquiries from tax authorities in good faith and strive to establish mutual trust with them.
6. Response to the Changes of Tax Environment
If there is a change of applicable tax regulations due to a change of our business activities, NH Foods Group will analyze the details of the changes appropriately and make a proper tax treatment. Further, we will strive to gather information and analyze the details of changes of tax regulations in each region as well, and make a proper tax treatments.
If there is a significant change to the tax environment, this tax policy will be reviewed as necessary to ensure that it leads to proper tax treatments at that time.
7. Ensuring Transparency
NH Foods Group will strive to ensure its transparency by disclosing this tax policy.
End.