Message from the President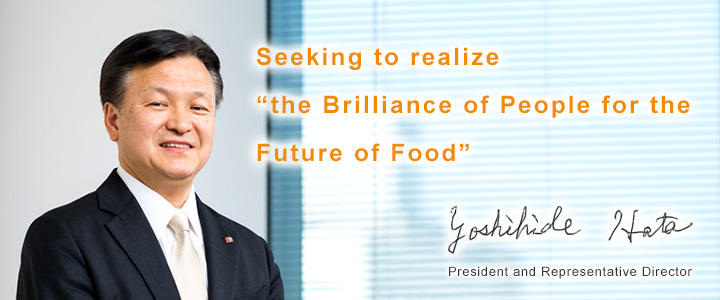 The "Joy of Eating" is the central theme of the NH Foods Group's corporate philosophies. The "Joy of Eating" comprises both "the pleasures of good eating" and "the joys of health" that food provides us with, and we believe that it is a source of happiness in people's lives.
By delivering the "Joy of Eating," we aim to contribute to the creation of healthy minds and bodies and help realize a bright future that is full of the brilliance of people.
Building Systems that Pave the Way to the Future in Order to Achieve Our Ideals
The NH Foods Group formulated its three-year Medium-Term Management Plan 2020, which took as its theme "building systems that pave the way to the future" and declared to "pursue sustainability" as one of its business policies. In order to achieve the goals set out in the plan, we intend to incorporate sustainable reforms and endless challenges into our basic approach and advance a variety of strategies.
Pursuing Sustainability through Future-Oriented, Long-Term Perspectives
One of the key policies of our Medium-Term Management Plan 2020 is to "pursue sustainability." When formulating this plan, we carefully considered what the "Ideals" of the NH Foods Group were, and we worked backward to determine its future direction.
Our Ideals are a manifestation of our corporate philosophies. For this reason, we took care to ensure that we were not restricted by short-term thinking; instead, we adopted a long-term, future-oriented perspective, and incorporated the ideas of our employees.
We wish to deliver delicious moments, to share these ideals with people everywhere, and support the healthy lives of people—and this is how we have summarized our Ideals. Sharing the feelings contained in these words, we have started out on the challenge of realizing our Ideals.
Our pursuit of sustainability extends across a wide range of activities. We recognize the need to link our corporate strategies and business strategies, and not restrict our activities to just a few, select departments. Indeed, we are convinced that "building systems that pave the way to the future" is absolutely necessary.
First Steps Toward Resolving the Five CSR Material Issues
In order to encourage "building systems that pave the way to the future," we have aimed to strengthen our Group from an organizational and institutional perspective while maintaining a focus on the Five CSR Material Issues.
First, we have established a new Communications Strategy Division in order to improve dialogue with our diverse stakeholders, including our customers. We have also established a new Sustainability Committee*1, through which we intend to both consider and confirm the progress of CSR policies and themes.
As part of our efforts to "produce food that is safe and reliable," we intend to strengthen our measures against food allergies and promote CSR procurement; we are also aiming to evolve our activities aimed at "supporting people's mental and physical well-being through food and sports."
We understand "preserving the environment," which is one of the central tenets of the Paris Agreement*2, to be an issue of the utmost urgency. It is vital that we come up with sustainable initiatives such as product proposals that contribute to reductions in food loss, and lightening our containers and packaging.
Ensuring a "sustainable food supply for the next generation" is also a key issue, and one that requires us to consider the effects of both global population growth and climate change. Japan is facing a shrinking working-age population, and it puts farmers out of business.With such a situation, we are continuing both to maintain our relationships with Japanese farmers and collaborate on technological development that supports improvements in productivity.
Each of the activities outlined above is related to the Sustainable Development Goals (SDGs) adopted at the UN Summit and, by engaging in these activities, we aim to contribute to the development of a sustainable society through action for our five CSR material issues.
Note1: The Sustainability Committee was established on April 1, 2018. The committee is chaired by the President, and is largely comprised of Group directors and executive officers.
Note2: The Paris Agreement is an international framework aimed at reducing greenhouse gas emissions. It was adopted at The twenty-first session of the Conference of the Parties (COP21), which was held in Paris, France in 2015.
An Organization that is Open to Diverse Approaches
Finally, it is of the utmost importance is that we create "workplaces that motivate employees" who are tasked with carrying out this series of initiatives. As part of our work style reforms, in addition to our focus on labor hour issues and maintaining a healthy mind and body, we are also promoting diversity. We believe that diversity does not merely refer to formal elements such as age or sex; rather, it entails the creation of an organization that is open to diverse ways of thinking.
As we continue to implement reforms on our way to achieving our Ideals, we believe that if we can establish a workplace and organization that our employees are proud of, and if our employees can find something to live for and a way of expressing themselves, then this will result in the creation of an even better organizational culture. Employees are essential to the organization, and the organization is essential to the employees. Our goal is to create an organization that sees its employees primarily as individuals, respects them as individuals, and fuses the power of these individuals to generate synergistic effects in line with our Medium-Term Management Plan 2020.
June 2018