Notice is hereby given that the NH Foods Group has formulated its business plan for its "Medium-Term Management Plan 2023" covering the three years from April 1, 2021 to March 31, 2024 (from the 77th fiscal year to the 79th fiscal year), as described below.
Overview of Medium-Term Management Plans 2023 and 2026
Management goal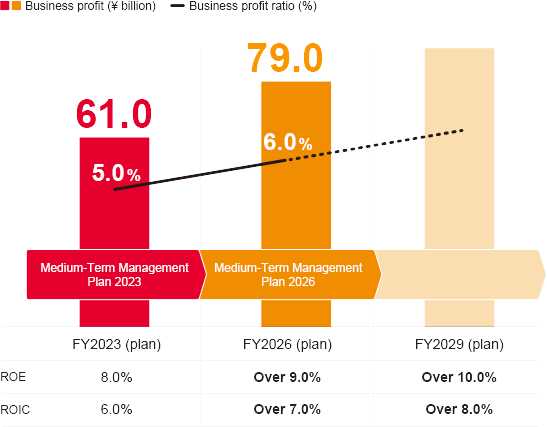 Medium-Term Management Plan 2023, Three Business Strategies and Four Management Policies
The Medium-Term Management Plans 2023 and 2026 launched in fiscal 2021 provide a roadmap for the next six years and were formulated based on our performance under the previous Medium-Term Management Plan 2020 and the changes in the external business environment. The objectives are to advance the structural reform and strengthening of existing businesses and to pursue the optimal business portfolio based on ROIC. The primary methods for achieving the objectives will be by strengthening our KPI management and bringing about our digital transformation (DX).
We are combining our materialities and our business strategies to maximize corporate value by solving social issues and growing and developing the Group.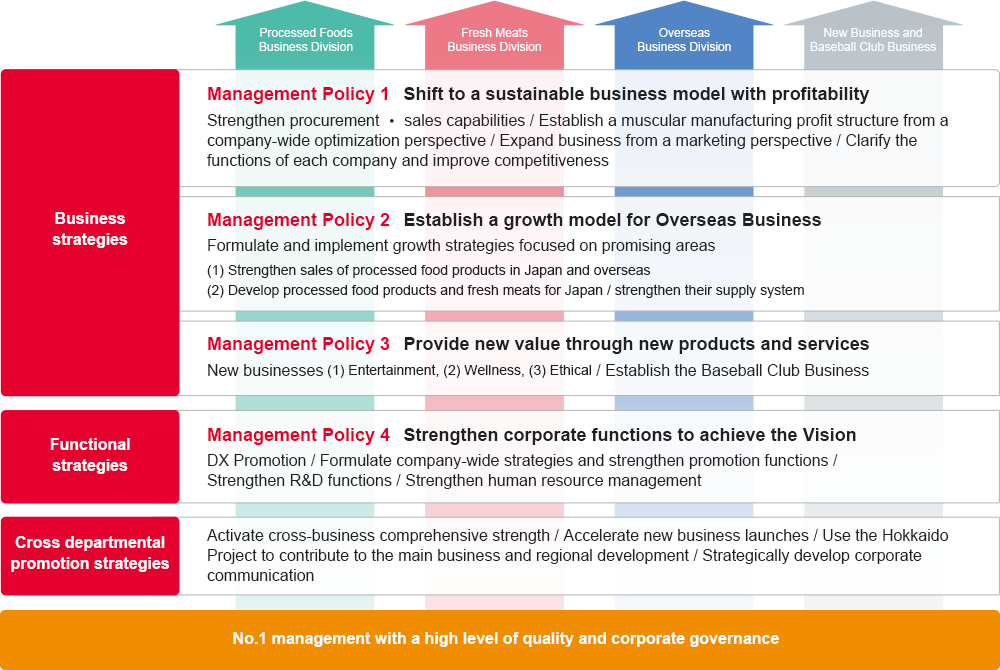 Management Policy 1

Shift to a sustainable business model with profitability

We will further enhance the NH Foods Group's strengths in procurement and sales capabilities, create a manufacturing profit structure from the perspective of overall optimization, and expand our business through marketing.

The Processed Foods Business Division will focus on existing business expansion and brand development and strengthening its marketing capabilities to foster hit products. Manufacturing process productivity will be improved, product domains will be expanded (into extract seasonings, soy meat, room-temperature products) and synergy effects will be pursued by integrating seafood, dairy, extract, and primary meat processing products.

The Fresh Meats Business Division will continue strengthening collaborations and alliances outside the Group in each livestock category and will concentrate investment in fields where growth is expected. The division will also increase the overall resilience of its business model, such as by fortifying its upstream production businesses and renovating facilities at its food packers. Specific measures will be taken to improve productivity and reduce costs in upstream pig and chicken operations as well as to expand sales of fresh meat brands, increase sales channels, and enhance its marketing capabilities.
Management Policy 2

Establish a growth model for Overseas Business

Sales of processed products in the United States and ASEAN countries will be built into earnings sources to complement Australian sales. Efforts to limit profit decline in the beef business will continue and steps, including M&A, will be pursued to expand business.

We will build on the strong reception in the United States market for the new Nature's Fresh brand featuring Australian beef to expand sales of the high value-added products in Australia and Uruguay. The strengths of the processed foods business in Japan will be used to boost sales of processed products in the Americas, Asia, and Europe. Overseas Business Division will narrow its focus to growth fields and regions and will use the strengths of existing businesses to drive business expansion into new business domains.
Management Policy 3

Provide new value through new products and services

We will expand the Group's overall business by establishing an Entertainment Business, Wellness Business, and Ethical Business, broadening our direct-to-consumer business to new customer segments, and integrating consumer data to enhance our existing businesses.
In addition, we will continue advancing the Hokkaido Project and seek to generate profit of the Baseball Club Business.
Management Policy 4

Strengthen corporate functions to achieve the Vision

We will strengthen R&D and human resources management, primarily through digital transformation.

Research and development will be strengthened by tying it to the Vision2030. Research findings will be productized, such as using the patents received for imidazole dipeptide to strengthen the health food and materials business and developing alternative proteins, to differentiate our products and boost our earning power.

Human resources management will be strengthened by creating a structure with the themes of pursuing challenges and a sense of growth, balanced abilities and duties, and self-directed careers. For the first two, we will encourage free and open exchange of opinions and ideas. We will assist employees in their self-directed careers by supporting their efforts for personal growth. We will also take steps to cultivate human resources.
Cross departmental promotion strategies
Cross business
strategies

Plan and implement a company-wide common strategy to demonstrate the integrated strength of the NH Foods Group as a whole, beyond the business divisions, toward the enduring development of the Group

New business

Accelerate efforts in new growth areas in anticipation of future changes in the environment, aiming for concrete commercialization and fostering a culture of challenge

The Hokkaido Project

In Hokkaido, where many of the Group's sites are located, create synergies with its core business in preparation for the opening of the new baseball stadium in 2023, and contribute to the development of the region

Corporate
communications

Strengthen corporate communications functions to enhance the reputation by developing strategic communications with stakeholders
Strengthening the corporate foundation

No. 1 management with a high level of quality and corporate governance

We remain committed to quality-first management and will build a quality assurance structure and human resource development system capable of fully handling our business expansion.

Corporate governance will be improved by planning and executing medium- and long-term strategies related to the five materialities set in the Medium-Term Management Plan. We have also revised the Basic Policy and made it a fundamental principle to not maintain strategically held shares. In addition, we will strengthen the new Group auditing and internal control functions with the new Group Audit & Supervisory Board Members' Office and by establishing an appropriate corporate auditing structure, including an Audit & Supervisory Board.