Basic Views
The sources of the Group's business are the gifts of the earth and its expansive natural environment as well as the vast bounty of nature. It is for this reason that we make full use of the bounty of nature without waste, effectively use limited resources to protect the bounty and abundance of nature and good environments, and strive to achieve a sustainable society.
Promotion Systems
Please refer to promotion systems on the environmental management page.
Changes in Waste Generated and Waste per Unit of Production by the Entire Domestic Group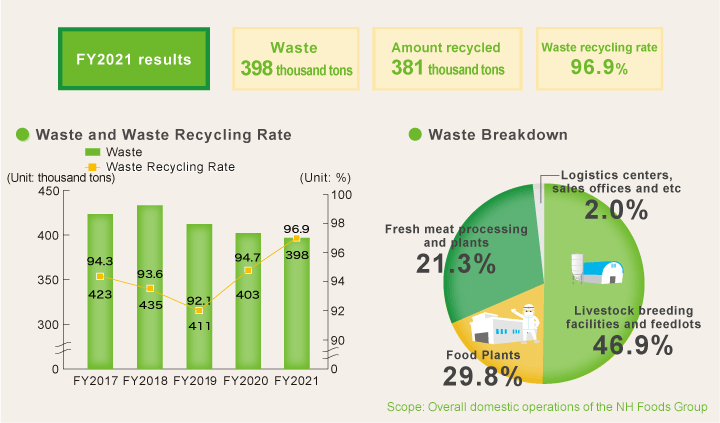 Note: Excluding the waste from Typhoon No.21 and the Hokkaido Eastern Iburi earthquake in the FY 2018.
Future Initiatives
With regard to resource recycling, the Group has set a waste recycling rate target at domestic sites of at least 92% by 2030 and is taking action to achieve that target.
In order to effectively use resources, we are pursuing initiatives to address secondary materials generated during the food production and processing stages and working in product design to reduce the weight of packaging materials.