Basic Views
Under the basic theme of the "Joy of Eating," the NH Foods Group's corporate philosophy is tocreate a culture that marks an epoch and contributes to society.
Companies are expected to contribute to the achievement of Sustainable Development Goals(SDGs) by linking their business activities to the resolution of social issues. Thus, the NH Foods Group formulated its Vision 2030 and identified the material issues that the Group addresses with priority, by making use of its strengths. We hope to contribute to the resolution of various social issues in advancing our ef forts of Vision 2030 "Unleash new potentials for protein."
The Medium-Term Management Plan and the Pursuit of Sustainability
On April 1, 2021, we launched our Medium-Term Management Plan 2023. We will strive to solve social issues through its business and contribute to the formation of a sustainable society by promoting both its business strategy and sustainability strategy through the implementation of materiality in order to realize "Vision 2030".
Vision2030
Unleash new potentials for protein
Business strategies
Shift to a sustainable business model with profitability
Establish a growth model for Overseas Business
Provide new value through new products and services
Strengthen corporate functions to achieve the Vision
Theme
Building systems that pave the way to the future
Business policies
Strengthen profitability by improving the efficiency of existing businesses
Create value through dialog with consumers
Enhance and develop technological capabilities for conceptualizing and realizing the future of food
Change gears in overseas market deployment
Pursue sustainability
The NH Foods Group and SDGs
The NH Foods Group recognizes that corporations have an important role to play in fulfilling Sustainable Development Goals (SDGs), and is actively engaged in attempts to resolve various issues. In particular, the Group believes that engaging in the Five Materialities(Key Issues), which outlined in February 2021, will contribute both to the realization of SDGs and to the establishment of a sustainable society.
What are Sustainable Development Goals (SDGs)?
Sustainable Development Goals are a collection of 17 goals and 169 targets adopted by the UN in September 2015. They clarify global priority issues and the "Future we Want," and the UN hopes to achieve the goals by 2030. The SDGs define goals and targets in the three fields of economy, environment, and society, and call on governments, corporations, and civil societies across the world to ensure that the limits of the world are not exceeded, that poverty is eradicated, and that all people are respected and provided with equal opportunities.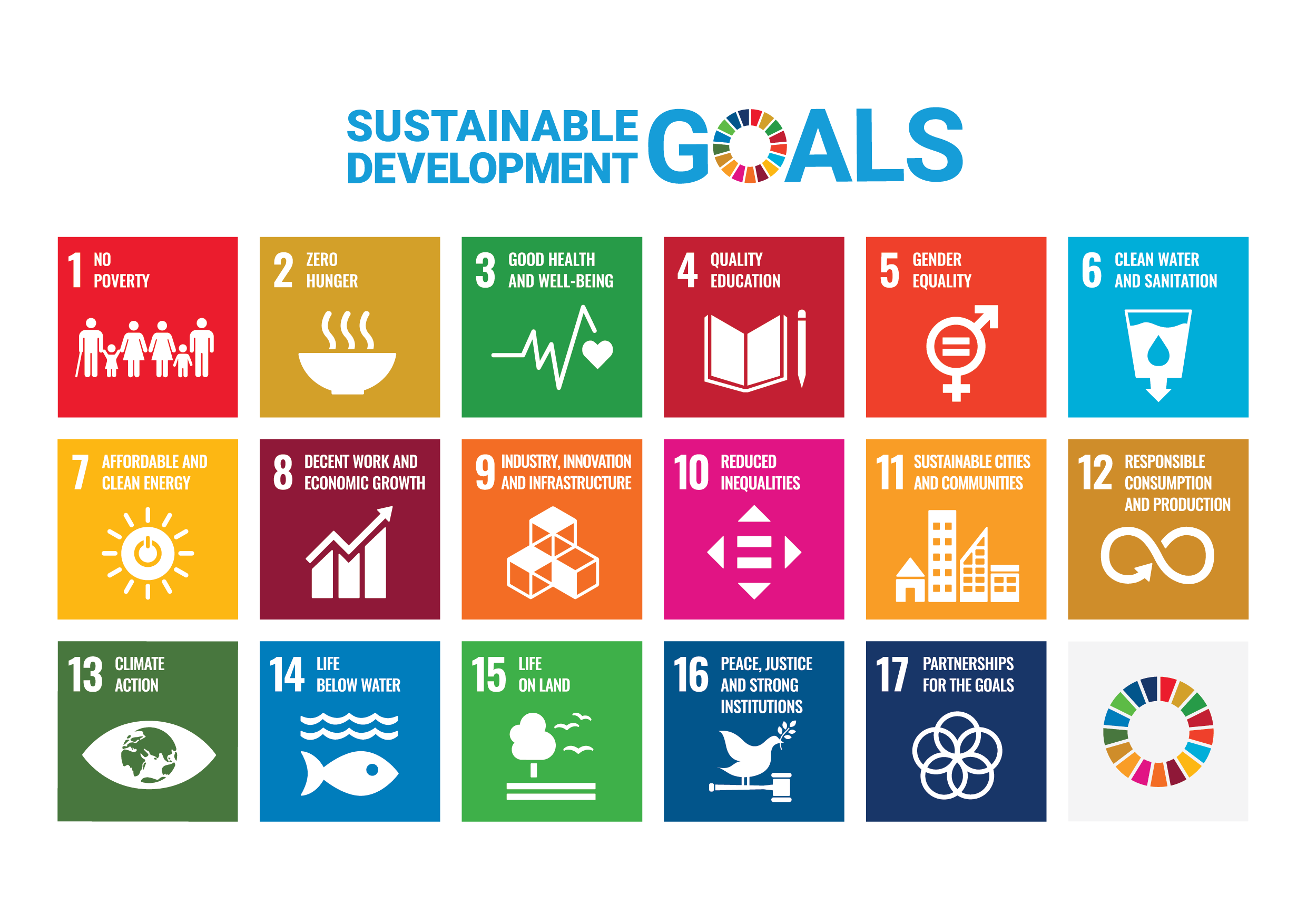 Promotion System
Desiring to effectively utilize the strengths and advantages of its management resources and business, in January 2016 the NH Foods Group selected its Five CSR Material Issues from among the wide-ranging problems faced by society and, since then, has engaged in initiatives aimed at the strategic promotion of CSR.
In order to contribute to society as a corporate citizen, in April 2018 we established a CSR Promotion Committee that would conduct a comprehensive review of our csr initiatives and report and make proposals to the Board of Directors.
One of the central pillars of the Medium-Term Management Plan 2020, which we launched in April 2018, is the "Pursue sustainability." We intend to link our corporate strategies and business strategies, and not restrict our activities to just a few, select departments.
For fiscal 2018, in October we held a lecture on trends in CSR, SDGs, and ESG investments. On April, 2020, to pursue more on sustainability we have change the name of the committee to "Sustainability Committee". The committee meets once per quarter with the President as the Committee Chairperson and its members primarily comprised of directors and executive officers.
Sustainability Promotion Framework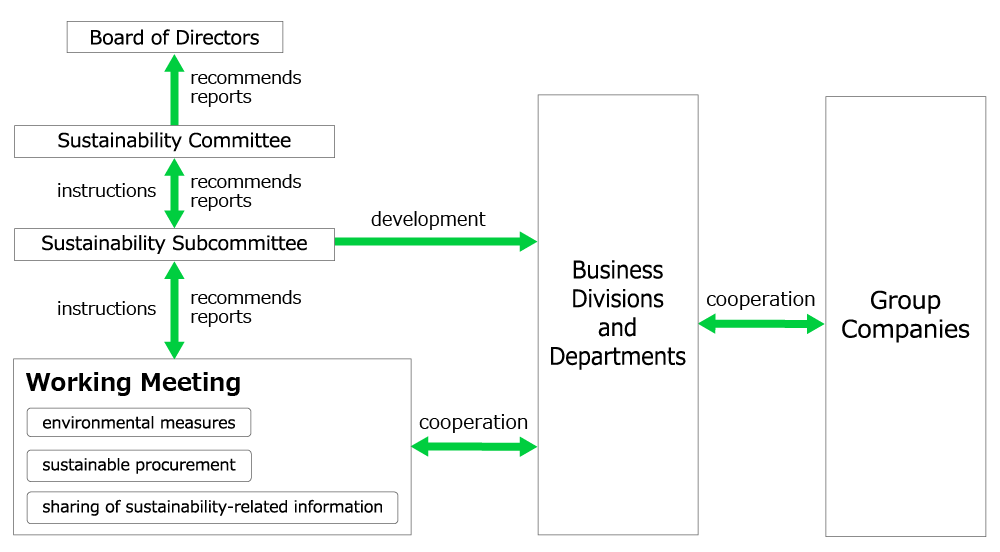 Sustainability Promotion Framework
Organization Entity
Role
Organization
Frequency
Sustainability Committee
・Development of the Group's sustainability policy and determine the strategy
・Director
・Outside Director
・General Manager of Business Division
・Audit & Supervisory Board Member / Outside experts
4 times / year
ES (Environment・Social) Section Meeting
・Incorporating the strategies determined by the Sustainability Committee into the business units
・Formulate measures and Indicators for key issues
・Director in charge of Sustainability
・Head of Departments and Sections
4 times / year
TCFD Committee
evaluate the risks and opportunities accompanying climate change and following this
・Director in charge of sustainability
・Director in charge of management of each business division
・Head of departments and sections and personnel
8 times / year
Composition of the Sustainability Committee
The Sustainability Committee meets once per quarter, and discusses policies and themes relating to Sustainability for the Group as a whole, and to confirm the status of measures related to Sustainability.
As of June 2022
| Position | Name | Role |
| --- | --- | --- |
| President and Representative Director, President and CEO | Yoshihide Hata | Committee Chairperson |
| Representative Director and Vice President, Executive Vice President | Tetsuhiro Kito | Committee Member |
| Representative Director and Vice President, Executive Vice President | Nobuhisa Ikawa | Committee Member |
| Director and Managing Executive Officer | Sadanori Miyagai | Committee Member |
| Director and Managing Executive Officer | Fumio Maeda | Committee Member |
| Director and Executive Officer | Masahito Kataoka | Committee Member |
| Director (Outside) | Yasuko Kono* | Committee Member |
| Director (Outside) | Tokushi Yamasaki* | Committee Member |
| Director (Outside) | Hideo Arase* | Committee Member |
| Managing Executive Officer | Nobuo Oda | Committee Member |
| Managing Executive Officer | Kohei Akiyama | Committee Member |
| Audit & Supervisory Board Member (Outside) | Shigeru Nishiyama* | Observer |
* Independent officers
Outside experts
As of June 2022
| Position, Name of the company | Name | Role |
| --- | --- | --- |
| Executive, Nissan Financial Services Co., Ltd. | Keiko Tanaka | Committee Member |
| Attorney-at-law, T.Kunihiro & Co. Attorneys-at-Law | Katsumi Nakamura | Committee Member |
| General Manager, CSR & Global Environment Center, Daikin Industries, Ltd. | Satoru Fujimoto | Committee Member |
| President, Cre-en Inc. | Ayako Sonoda | Observer |