Unleash new potentials for protein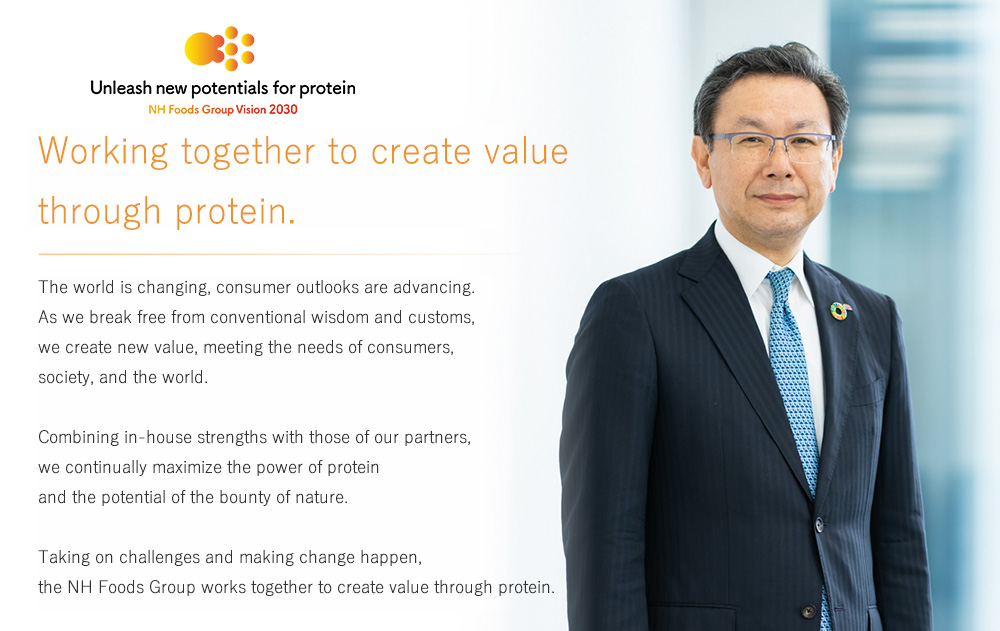 The NH Foods Group's philosophies are founded on the "Joy of Eating."
"Joy of Eating" represents the "pleasures of good eating" and the "joys of health" brought about by "Eating." We at NH Foods Group believe that this is the starting point for people's well-being.
Beginning with the manufacture of hams and sausages, we have extended our business activities to all areas of the food industry, including fresh meats, processed foods, marine products, dairy products, natural flavorings, and health foods.
At the start of the new medium-term management plan from April 2021, we have formulated "NH Foods Group Vision2030" as a milestone in pursuing our corporate philosophies.
There are three factors behind the formulation of Vision2030. The first is that 2030 is the year to achieve the SDGs for the realization of a sustainable society. The second is to draw a vision for 2030 from a medium- to long-term perspective, and look back on it to formulate the next medium-term management plan. Third, as of 2030, defining the concrete figure and value to deliver our corporate philosophies of "joy of eating" is the background for formulating vision2030.
We will unleash new ideas beyond existing domains to expand new potentials for protein as the power of life and endeavor to create diverse dietary lifestyles so people can experience the "Joy of Eating" more freely, while ensuring a stable supply of food with respect to the environment and society. Thank you for your continuing understanding and assistance with our business activities.